Learn From A Grammy Nominated Professional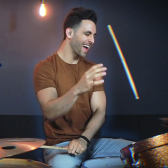 Hey there! My name is Gabe Helguera founder of DBO Academy and drummer for platinum selling rock band I Prevail. I'm going to be honest with you, things weren't always this way.
Just 5 years ago, I was playing drums in a storage closet in my basement. I wasn't playing for any big bands. I had no online following. And worst of all I felt stuck in my drumming.
You and me are very similar.
Then I put myself on a path to drumming success that not only transformed my drumming, but it allowed me the opportunity to teach hundreds of thousands of students online as well as travel the world playing live with my band. But my story doesn't end with me. Now, I dedicate all of my time helping drummers just like you reach their full potential on the kit so you can feel confident, experience growth, and share your passion for drumming with the world!
I do this through DBO Academy. Let me teach you everything I know about how to play and this business.
Become a member today and start your path to success.